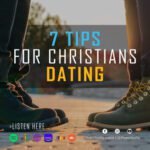 You can read the article version of this episode here.
There is a lot of dating advice out there today. Some of it helpful. Some of it… not so much.
Oftentimes, Christians can simply go along with how the culture approaches finding a mate. However, are there some Biblical principles that we can apply to dating and finding a spouse?
Following up on our last episode on why men should seek a young lady's father's blessing before pursuing dating, this episode considers 7 further thoughts on how to approach dating as a Christian with wisdom.
—————–
Consider supporting at THEOTIVITY.COM/DONATE
Visit theotivity.com for more content. Sign up for our monthly email Newsletter to stay updated on all the latest content. Please consider sharing this episode and leaving a 5-star review on your podcast app to help us grow. Follow us at @theotivity on social media (Facebook, Instagram, Twitter, YouTube, Rumble).