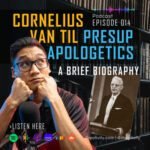 This is an audio narration of the article, "Cornelius Van Til | The Grandfather of Modern Presuppositional Apologetics"
Cornelius Van Til is an important figure in the field of Christian Apologetics – that is, the defence of the Christian faith. We're commanded in scripture to always be prepared to give an answer for the hope that is in us (see 1 Peter 3:15-16). But how do we go about doing that? Is there a right and a wrong way to do it? Van Til believed there was a Biblically faithful way to defend the faith to which all Christians should commit themselves. He stressed being faithful to the Calvinistic interpretation of Scripture, considering the depravity of man and suppression of truth in unrighteousness as we engage the unbeliever with the Gospel. His apologetic methodology seeks to be consistent with Scripture's primacy and clarity on these topics.
Thus, he is a pivotal figure who is worthy of study and careful consideration. His Transcendental Argument for the existence of God has shaped the thought of many Presuppositional Apologists today and influenced the field of Reformed Apologetics and Epistemology in significant ways. I hope that this brief biography of his life and work will edify and encourage you to look into his works more.
Soli Deo Gloria.
———————-
Please visit theotivity.com for more content. Please consider sharing this episode and leaving a 5-star review on your podcast app to help us grow. Follow us at @theotivity on social media (Facebook, Instagram, Gettr, YouTube, Rumble).