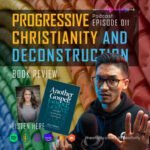 What's the deal with all the talk of "Deconstruction" these days and Progressive Christianity?
This episode explores the topic of Progressive Christianity and Deconstructing the Faith by interacting with Alisa Childer's book – Another Gospel?: A Lifelong Christian Seeks Truth in Response to Progressive Christianity. In it, Childers recounts her journey of faith wrestling through the challenges of Progressive Christianity and the movement to Deconstruct her faith. She tells of how through study and apologetics, God used it to strengthen her face and show her the errors and dangers of Progressive Christianity and Deconstructionism.
This issue is continuing to grow in popularity with many famous contemporary Christian musicians 'deconstructing' their faith in the public eye. So, it is a live issue that we should be aware of and prepared to give an answer to.
This is an audio narration of the article: "Progressive Christianity and Deconstructing the Faith"
———————-
Please visit theotivity.com for more content. Please consider sharing this episode and leaving a 5-star review on your podcast app to help us grow. Follow us at @theotivity on social media (Facebook, Instagram, Gettr, YouTube).