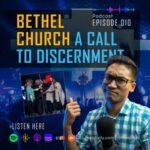 Bethel Church is a charismatic church that has made waves amongst many Evangelicals with its dynamic worship band. Many churches and Christians sing their songs and have been blessed by their productions. However, there are some very concerning things about this movement that Christians should be aware of and discerning about. These are not trivial matters, but rather issues of the Gospel and, in some cases, outright heresy.
In this episode, we take a look at some of the questionable practices at Bethel, some concerning issues, and some heretical doctrines their leaders have taught in the past through books and sermons. May we think soberly and biblically about these issues as we seek to live faithfully to God's Word and righteous standards.
This is an audio narration of the article, "Bethel Church | Deception, Heresy & A Call to Discernment"
———————-
Please visit theotivity.com for more content. Please consider sharing this episode and leaving a 5-star review on your podcast app to help us grow. Follow us at @theotivity on social media (Facebook, Instagram, Gettr, YouTube).